Local Uniform Suppliers
We are proud to contract with Modern Sportswear in Bellaire and Make It Mine Designs in Gaylord for North Central Academy uniforms. They offer a wide array of styles and sizes ranging from youth XS to adult XXXL.
To order, simply complete the the appropriate order form and return it to the front office with payment, including 6% sales tax. You may also take your completed order form directly to the vendor of your choice.
Online Uniform Suppliers
If you prefer to do your uniform shopping online, visit our school store over at Land's End.
North Central Academy at Land's End
Logo Style
All embroidered uniform items ordered use the North Central Academy logo as pictured below.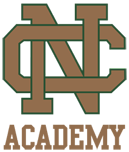 Click Here to view our current uniform policy and complete details. If you have any questions, please contact our office at 231-584-2080

Uniform Overview
Pants - All Grades (K-12)
All grade levels are welcome to wear black or khaki (tan) bottoms with the appropriate uniform shirt.
Please note: sweats, leggings, yoga pants, gym shorts, basketball shorts and bottoms made of similar materials are not approved for uniform wear.
Shorts, Dresses and Skirts: All must be finger tip length or longer in order to be worn to school


Tops - All Grades (K-12)
Polo Colors: Forest Green or Black with NCA logo
Fleece Color: Forest Green or Black
Button Down Shirts: Solid white - does not need a logo
Hoodies: Hoodies are not approved for uniform wear, NO EXCEPTIONS. We recommend that students have a NCA logoed fleece jacket, logoed pullover or sweater for cold weather wear within the building as it does get chilly.